"Pop-Stachio Corn"
10 January 2010
2,393 views
No Comment
"Pop-Stachio Corn"
Portions of this recipe are courtesy of the "Whole Food Bible"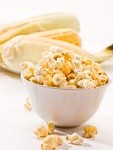 "Pop-Stachio Corn" is a lower calorie alternative to buttery popcorn or sweeter versions like Crunch–N- Munch® or Fiddle Faddle®.
This snack provides fiber, protein

and essential monounsaturated fatty acids "M.U.F.A.'s".  The anti-inflammatory benefits of the curry powder and the low Glycemic level of the Agave Nectar really make this a healthy snack if you follow the suggested serving size of 1 cup.   You may choose to eliminate the pistachios and maple syrup if you are seeking a lower fat version.  In such case,  a serving size would increase to 2 cups.
Ingredients:
Makes eight 1 cup servings
1 cup organic  pop corn kernels
1 cup shelled raw pistachios
½ cup shelled and raw walnut pieces
2 tablespoons of organic, unsalted butter
½ teaspoon curry powder
½ teaspoon sea salt
1 Tablespoon pure Maple Syrup
½ cup Agave Nectar
Directions:
Air-pop the popcorn or pop it on the stove top in 3/4 teaspoon of Grapeseed or Coconut oil and place it in a large bowl.
Toast the pistachios and walnuts pieces by placing them on a baking sheet and popping them in as pre-heated 350° oven for 7-10 minutes then add them to your popcorn.
In a small sauce pan, melt the butter on medium heat; add the curry powder, sea salt, maple syrup and Agave Nectar; simmer for 3-5 minutes until the syrup in uniformly bubbly.
Pour the hot syrup over the popcorn and nuts in your bowl, stir it thoroughly to coat everything well.
Let everything cool completely, break it into clusters and enjoy.  Leftovers may be stored in an airtight container for 3-4 days (if they last that long.)