Rates and Services
Rates and Services:
Amanda Powers LMT, NC, E-RYT
Yoga Therapy:
Yoga Therapy Sessions:
Each Yoga Therapy session focuses on a different area of the body and the emotion that corresponds with that specific area.  It requires a minimum of 7 sessions.  Some people may prefer more based on their physical and mental well-being at the time they begin their work. The initial session is 90 minutes and each there after is one hour in length.  Please click here for more information on  YogaTherapy.
$500.00 for 7 sessions each session thereafter is $80-$100 based on duration and content of work.
Fitness Classes:
All Fitness classes are available to groups and/or individuals.  Price is based on the size and location.  Please contact me at amanda@changingbadhabits.com for more information.
Personalized Fitness/Private Yoga Classes:
Offered in my home studio or at your home or office and designed around your individual needs, abilities, and goals.  Personal fitness sessions are typically weight and equipment free and utilize non-traditional items around your home and environment.  A session can be designed for you to do by yourself or to share with friends and family members.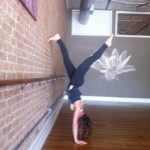 Restorative and Yin Yoga:
Each of my Restorative and/or Gentle Flow classes focus on different muscles and joints so the format is ever changing. However, the intention always remains the same; " Relax and clear the mind through deep, belly breathing while slowly stretching out tired, over used muscles." This form of movement not only helps reduce stress it is beneficial to those recovering from minor injuries and/or surgeries, for people with adult on-set Scoliosis, Osteoarthritis, high blood pressure, chronic low back pain or Sciatica.   These are just a few of the common disorders that greatly benefit from practicing Restorative Yoga regularly.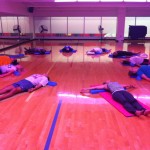 "CardioFlex" Fitness:
CardioFlex Fitness is a high energy cardio workout that tones and lengthens muscles, creates flexibility and keeps the heart healthy.   I have designed CardioFlex Fitness based on my entire body of work.  This class includes Barre, Pilates, Cross-Fit, and light weights; always focusing on proper body mechanics.   CardioFlex Fitness uses the theory of interval training, which I believe, delivers optimal results  while eliminating joint injury or muscle fatigue that occurs with other forms of cardiovascular exercise.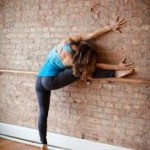 The Nia Technique:
Nia is a workout, lifestyle and personal growth program that combines Eastern and Western concepts and philosophy specifically derived from three main movement forms:
Martial Arts for mindful precision

Dance Arts to allow personal expression

Healing Arts to offer time for self-healing
Massage Therapy:
Texas Department of State Health Services, Massage License No. MT043927
Kinesiology taping "KT":
If you don't have time for a massage but have a sore low back, carpal tunnel, Plantar Fasciitis, or chronic shoulder and neck pain to name just a few…  Come in for a "KT"  treatment. 
Taping price varies on injury between $15.00 and $30.00 and will typically take between 15 and 30 minutes to apply.  Please be sure to shave any excessively hairy areas such as forearms, legs or back, 24 hours before your appointment.
Therapeutic Massage:
This combination of Swedish Massage Therapy and the Trigger Point Technique is designed to relieve chronic muscle pain caused by every-day stressors, increase blood circulation and reduce high blood pressure.
60 minutes, $80.00 or 90 minutes for $110.00
Sports Massage:
Promotes the release of toxicity from muscle tissue and the elimination of tension that accumulates in highly used muscle groups.  This massage is similar to the Therapeutic Massage explained above with the addition of deeper pressure and passive range of motion.  
75 minutes, $90.00
Express Rejuvenation Massage:
Get a quick pick-me-up after a long day or during a lunch break by revitalizing your body with this energy inducing chair massage.
30 minutes, $40.00
Pregnancy Massage:
Rest your "Mommy to be" mind with this calming massage designed to ease the strain of pregnancy on the body.  A deluxe "Pregnancy Pillow" lets you lay on your belly even in the third trimester.  
60 minutes, $90.00
Breathing for Stress Management:
Tap into breathing for stress relief with this guided lesson where you will learn techniques that can be practiced at home, in your car or at the office.  Controlled breathing exercises can help improve your ability to handle high stress situations and improve your overall health and well being.  
60 minutes, $65.00
Chair Massage in your home or office:
This is the most portable Massage service offered and is great for wedding and/0r baby showers, employee appreciation days or any other group occasion that would benefit from a little pampering.    The cost is based on the duration and location.  Please call for your personalized quote.
Nutritional Consultation and Lifestyle Education:
Plan 1 "The Basics"
Nutritional consultation
Weekly, personalized menu planning
Healthy, easy and delicious recipes
Stress reducing techniques
Fitness tips
Unlimited phone call , text  messaging & email support from your Lifestyle Educator
Plan 2 "The Deluxe"
"The Basics" plus weekly itemized shopping lists
Plan 3 "The Stress Reliever" (minimum 6 week commitment)
"The Deluxe" plus three one hour therapeutic massage sessions to promote detoxification & improve circulation.
Optional services may be added to any plan or just enjoy them individually:
One-on-one nutritional meeting : $60.00 per hour
Grocery shopping field trip to Central Market: $75.00 (group rates available)
Pantry purge: $50.00 per hour (one hour minimum)
Nutrition classes at your home or office: $30.00 per person (*five person minimum)
*Nutrition classes may also be offered in workshop style with topics such as "Survival in a Fast Food Nation", "Making Comfort Food Healthier", "Understanding Product Labels", and much more.
Private Chef Services:
Please call 817-675-9621 or email me at amanda@changingbadhabits.com for a personalized quote based on your households cooking requirements and menu requests.