Tropical Ceviche
24 June 2010
4,475 views
3 Comments
After returning from Zihuatanejo Gurrero, Mexico in June, I have more passion than ever for embracing an organic lifestyle.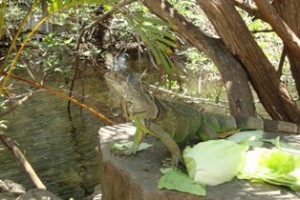 While taking in the view along Playa la Ropa, it was hard to miss the beautiful local people exuding a glowing love for life.


It was the sunshine, waves, palm trees and environment that offered nothing but the freshest foods on earth that inspired me to create these tropical recipes for you.
"Tropical Ceviche"
1 medium Papaya (2 cups)
2 large Mango's (2 cups)
1 small pineapple (1 cup)
4-5 Key Limes (1/4 cup fresh squeezed juice)
1/2 cup coconut water
1/3 cup unsweetened shaved coconut
Pour the lime juice and coconut water into a large bowl and whisk them together.  Chop all of the fresh fruit into pieces that are slightly smaller than "bite" size but bigger than "diced".  Place all of the fruit chunks in your bowl and thoroughly coat them with the lime juice mixture.  Marinate 20-30 minutes, garnish with shaved coconut and serve chilled. For an adult version, replace the coconut water with Vodka and let the mixture marinate at least 1 hour before serving.
"Tropical Ceviche" as a main course
This recipe can also be modified to become a main course.  Simply marinate a couple of  Tilapia  fillets (or other similar white fish) in lime juice and a pinch of sea salt; cover and place in the refrigerator for a minimum of one hour, no longer than three hours.  The citrus from the lime juice will cook the fish and provide the addition of protein to this tropical dish. After marinating the fish, pull it apart into bite size pieces and fold them into the mixture.  To garnish this dish as a main course, replace the shaved coconut with chunks of avocado and fresh Cilantro.