Rustic Chicken Cacciatorie
14 June 2013
3,307 views
No Comment
Rustic Chicken Cacciatorie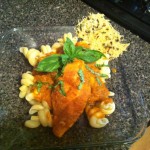 Photo:
"Rustic Chicken Cacciatorie" over Italian Trottole pasta
with a side of freshly baked Parmesan Crispini's
Ingredients
* 1 medium shallot
* 2 large cloves of garlic
* 6 large vine ripened tomatoes or 9-10 Roma tomatoes
* 1 large red bell pepper or 2 medium sized
* 1 (6) inch sprig of fresh Rosemary
* 1 teaspoon of fresh Thyme
* 1 teaspoon of fresh Oregano
* 2 tablespoons of fresh Basil
* 4 boneless and skinless chicken breasts
* Sea Salt
* Fresh Pepper
* Grape Seed Oil
This rustic dish is a breeze to make since the ingredients are minimal. Let go of perfection and have fun chopping big chunks of tomatoes and peppers being sure to keep those rough chops equal in size to insure even roasting time.  Based on your dietary guidelines you can keep this meal gluten and/or carb free.  Not to mention the entire dish has only has 2 teaspoons of Grape seed oil.  Try serving it over your favorite pasta, steamed spaghetti squash, grilled zucchini ribbons or just as it is with a steamed vegetable side such as broccoli, asparagus or a lovely whole artichoke.  Enjoy.
Directions
Preheat oven to 375 degrees.  In a large, oven safe, sauté pan add 1/4 teaspoon of oil, the shallot cut into four large chunks, and garlic;  roughly cut into halves.  Sauté on medium low heat just long enough to release flavors, about 2-3 minutes.
Chop the bell pepper into 1-inch squares and add to the pan.  Turn heat up to medium.  Slice your tomatoes into quarters or sixths based on the size of everything else and add them to the pan.  Add 1 teaspoon fresh Thyme, 1 teaspoon fresh Oregano, and 1 tablespoon of fresh basil cut into ribbons. Toss the whole sprig of rosemary in then drizzle 1 teaspoon of oil over the pan.  Sprinkle with  1/4  teaspoon of sea salt and few grinds of fresh pepper then slide the pan into your preheated, 375-degree oven  for 20 minutes.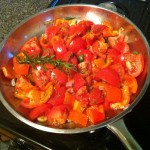 While the veggies are roasting add 1/4 to 1/2  teaspoon of oil to another large sauté pan (just enough oil to coat the pan without creating a puddle).  Heat oil on medium high heat.  Sprinkle a pinch of sea salt onto both sides of each chicken breast.  Once the oil is "singing,"  add the chicken. Sear on medium-to-medium high heat to seal in the juices and create a rich golden color.
Once browned on both sides remove from heat and set aside.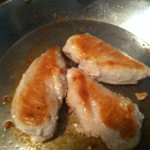 Remove the sauce  from the oven after 20 minutes and let it cool for about 5 minutes.  Remove the sprig of rosemary and scoop the roasted mixture into a blender or food processor.  Puree until smooth and fluffy.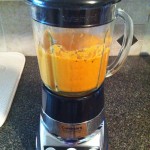 Pour the puree into the pan with the browned chicken breasts; add the rest of the fresh herbs, finely chopped, along with sea salt to your taste (about 1/4 teaspoon).  Simmer on low for 30 minutes (15 minutes covered and 15 minutes uncovered).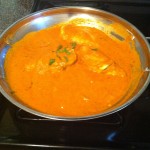 While the sauce is simmering begin to make what ever you are serving you "Rustic Chicken Cacciatorie" over and/or with.