Personalized Nutrition
19 January 2009
2,957 views
No Comment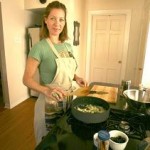 As a Certified Nutritional Consultant and First Line Therapy Lifestyle Educator, I understand that changing your eating habits is not an easy task. This is made that much more difficult by the demands of a job and family. It is hard to break from a bad habit, when that habit enables you to save time or is just made easier because of familiarity. Equally important in changing poor nutrition and eating habits is to replace it with proper nutrition and good eating habits. It does no good to move from one poor habit to the next.
My goal is to help you change your lifestyle to a healthy one. It is a Therapeutic Lifestyle Approach, which incorporates a multi-pronged approach.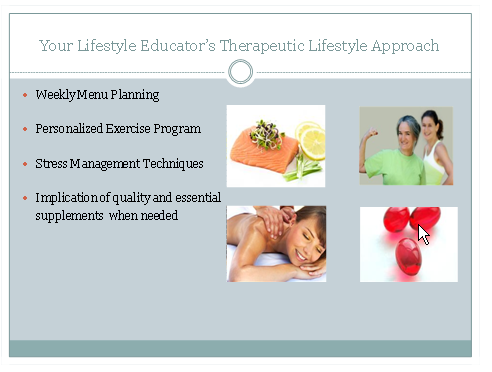 Although many of the Therapeutic Lifestyle Plans are offered only through the Fort Worth office. The Therapeutic Life Style plans or portions of the plans may be adjusted to suit non-residents, who would like to work together via telephone and internet. Similarly, those with access to the Fort Worth office will find that they have options in designing a lifestyle approach. I have put together some list of the most popular packages that I offer, of course, even these can be customized.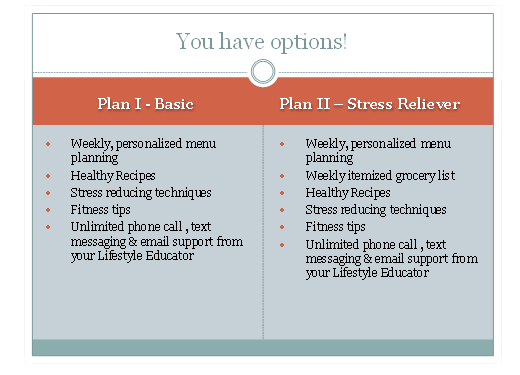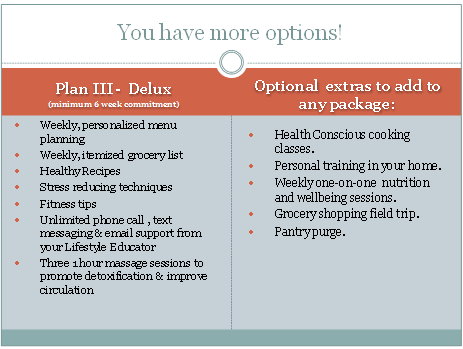 One of the core services that I offer is weekly menu planning. These meal plans lay out what you need so that it also assists you with grocery shopping. Meal plans are based on numerous factors, including the amount of caloric intake, as well as information the information that you provide. Here is a sample meal plan for one week.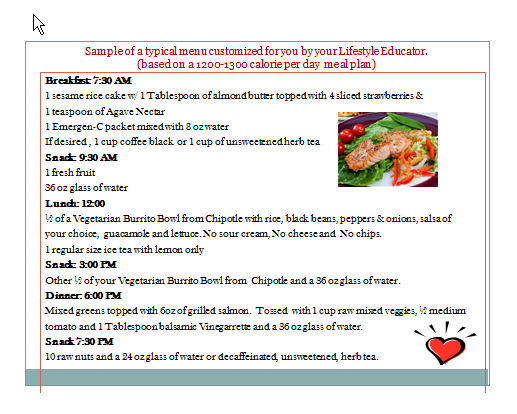 Contact Us if you have any questions or to get an estimate for your personalized program.