What can actually go in your Recycle Bin and why does it matter?
4 May 2009
7,903 views
No Comment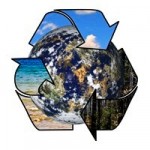 "Can this be Recycled?"
How many times have you asked yourself that very question?
Why should you care enough to take the time to find out what can be recycled then to clean your trash and then to place it in specific bins?
Well, check out the map below of the Oceanic Garbage Patches located on innocent Mother Earth.  That's right, massive swirling patches of  human generated trash that exist in our Ocean's; 85% of the patches are debris from products made  out of plastic.  The patch located in the Pacific Ocean is twice as large as the state of Texas and up to 90 feet deep in some areas.  These non-decaying, swirls of trash are killing precious ocean life and destroying our environment.
The next time you ask yourself, "Can this be Recycled?", please remember that every little bit counts.  By making a conscious effort to Reduce, Reuse and Recycle you can do your part in stunting Oceanic Garbage Patches.  Please take the time to review the list below of Recyclable and Non-Recyclable items in the City of Fort Worth, TX and help make a difference.

You can find out more about the devastating Oceanic Garbage Patches at:
http://en.wikipedia.org/wiki/Great_Pacific_Garbage_Patch and at,
http://www.mauitime.com/Articles-i-2009-01-29-68584.113117_The_great_garbage_swirl.html
City of Fort Worth – Garbage & Recycling
Environmental Management Department
"Put These In Your Blue Recycling Cart"
Paper (Paper clips and staples are OK.)
Advertising circulars

Carbonless paper

Cardboard – corrugated cardboard.

Large boxes must be broken down or cut to fit inside the cart.

Catalogs

Envelopes – with or without windows

Junk mail

Magazines

Newspapers – all sections

Office paper – file folders, letterhead, sticky notes, printer paper, calendars, school papers

Paperback books

Paperboard – cereal boxes (liners removed), soda and beer carry cartons, dry goods packaging, paper towel and toilet paper cores.

Paper bags

Phone books
Metal Containers (Please rinse. Labels can be left on.)
Aluminum drink cans – do not flatten

Aluminum baking tins – durable; not disposable

Steel or tin food cans and lids

Empty aerosol cans – with spray nozzle; remove plastic lid unless part of the can

Empty steel paint cans – must be empty and dry; a thin skin of dry paint on bottom and sides is OK; remove lid and recycle
Glass Containers (Please rinse. Labels can be left on. All colors accepted.)
Bottles and jars – remove metal and plastic lids and recycle

Ceramics

China

Dishes

Mirrors – must fit inside cart with lid closed

Windowpanes – no auto glass
Plastic Containers (Please rinse. All colors accepted. Must be hard plastics.)
Bottles, cups and jars – with #1 through #7 recycling symbols on bottom of container; remove caps and lids and recycle

Food trays, tubs and bowls – with #1 through #7 recycling symbols on bottom of container

Plastic eating utensils

City of Fort Worth – Garbage & Recycling
Environmental Management Department
"DO NOT Put These In Your Blue Recycling Cart"
Household trash

Aluminum foil

Auto glass

Clothing or bedding

Drink boxes and straws

Garden hoses

Gift wrap and greeting cards

Hangers (plastic or metal)

Hard cover books

Light bulbs

Medical waste(including syringes, lancets, IV bags and tubing, and medications)

Paper milk and juice cartons

Paper that comes into contact with moist food, including pizza boxes, some frozen food containers, waxed drinking cups, etc.

Plastic containers that held hazardous materials such as gasoline, motor oil, paint, pesticide or weed killer. Throw empty containers in trash. Dispose of leftover household chemicals for free at the Environmental Collection Center, 6400 Bridge St. Call 817-871-5257 for hours of operation, directions and a complete list of materials accepted or visit

www.fortworthgov.org/dem/eccpg.htm

Plastic bags including grocery sacks, dry cleaners bags, newspaper wrappers, etc.

Toys

Styrofoam® (foamed polystyrene) cups, food containers, formed packing, "peanuts", etc.

Waxed paper and waxed food containers

Yard trimmings

Courtesy of  www.fortworthgov.org