A healthy version of the old school 'Sloppy Joe"
12 May 2010
15,031 views
One Comment
"Messy Bison"
This healthy version of the old school 'Sloppy Joe" is made with ground Bison which offers that naturally sweet flavor unique to Buffalo.  Each 3.5 ounce serving rocks out 28.44 grams of protein.    My secret weapon for this version of the healthier "Man-which" is the sauce.  Kidney beans add a creamy texture, lots of body and much needed daily Fiber, B9 and Manganese.  One cup of cooked kidney beans provides 45.3% of the recommended daily intake for fiber. Kidney beans' high fiber content prevents blood sugar levels from rising too rapidly after a meal, making these beans an especially good choice for individuals with diabetes, insulin resistance or hypoglycemia.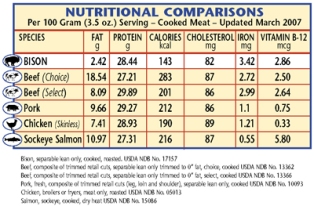 Ingredients:
1 pound ground Bison
1 Teaspoon coconut oil
1 can Organic Kidney Beans (drained and rinsed well)
4 Teaspoons Taco Seasoning
1-2 cups of filtered water (based on consistency while blending)
½ Cup Organic Annie's Ketchup
1 Cup Organic "Texas Style" BBQ Sauce
In a large frying pan add the coconut oil, 2 teaspoons of taco seasoning and the ground bison.  Saute on medium heat until the meat is no longer pink then set the pan aside.
Put the kidney beans in a blender and slowly add filtered water while blending until all chunks are gone.  Add 2 teaspoons of taco seasoning, BBQ sauce and ketchup.  Blend everything together slowly adding more filtered water until your sauce is the thickness of heavy cream.  Add 2 cups to the cooked Bison and put the pan on medium heat for 15- 20 minutes to let the flavors marry.  Any un-used sauce can be refrigerated up to 7 days and works great as a dip for chicken fingers or a marinade for grilling.
To stick with the health conscious theme,  serve your  "Messy Bison" on Rudi's Organic Hamburger Buns.  I recommend the Spelt buns but if you don't have wheat issues you get the authentic feel of a Sloppy Joe with Rudi's Organic White.
Add a side of steamed sugar snap peas and baked sweet potato fries to complete this healthy meal disguised as comfort food.