Tossed Asparagus & Kidney Bean Salad
27 April 2010
8,717 views
No Comment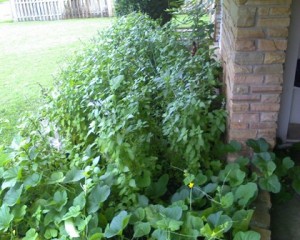 After a long winter of squash and potatoes the spring time opens up a whole new road to a tasty adventure.  Your local grocery stores should be offering a beautiful selection of fresh herbs and leafy greens that not only rock out on steamed vegetables and fresh salads, they offer valuable nutrients such as Iron, Vitamin C, Folate and Potassium.  Fresh herbs can typically be purchased by the bunch or in soil.  I prefer those that are sold as a whole plant in soil for continual enjoyment under $5.00.
Asparagus is really fresh right now since it is harvested from March through June based on the growing region.  Unfortunately, many people over cook asparagus creating a stringy pile of mush.  Blanching is the best cooking method to use for tasty asparagus every time.  I sincerely think of Asparagus as a miracle food.  It is low in calories, cholesterol free and very low in sodium.  It is also a good source of vitamin B6, calcium, magnesium and zinc.  Asparagus also provides dietary fiber, protein, vitamin A, vitamin C, vitamin E, vitamin K, thiamin, riboflavin, rutin, niacin, folic acid, iron, phosphorus, potassium, copper, manganese and selenium.  As you can see, Asparagus is practically natures multi- vitamin.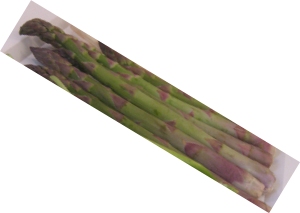 The final ingredient I want to talk about in this recipe is legumes or beans.  Every bean is nutritionally unique and worth trying. Experiment with dried beans, some soak over night and others such as lentils, can be rinsed thoroughly and cooked in less than 30 minutes.  Organic canned beans are a super healthy pantry item and can easily become an appetizer, salad topping, or main dish. The key to cooking with beans is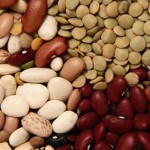 soaking them first.  Beans have an indigestible outer coating of complex sugars called, Oligosaccharides.  Beans also tend to be extremely moldy and dirty.  Soaking minimizes gas and gets rid of the accumulated surface dirt, bacteria, and nasty stuff like insect larva, rodent contamination, and fertilizer or pesticide residues that may be hitching a ride.  Follow the preparation directions on your box of dried beans and simply soak canned beans for 10-15 minutes then rinse well before cooking with them.
Tossed Asparagus and Kidney Bean Salad (makes 5-6 one cup servings)
Ingredients:
Please buy Organic produce if and when possible.
2 cans Organic Kidney Beans (Black Beans are delicious too or get funky and use a combo.)
10-12 fresh Asparagus spears
1 bunch fresh Cilantro (1/2 cup chopped)
2 fresh Jalapeno's (if heat is not desired, substitute with a Pablano pepper)
1-2 Limes juiced (1.5 Tablespoons)
1 Teaspoon ground Sea Salt
1.5 Teaspoon Cumin
2 Tablespoons Grape seed oil
Directions:
Thoroughly clean all of the produce and lay it on a clean towel to air dry.  Soak and rinse the beans then gently pour them into a large bowl.  Remove the "needle-like triangular leaves" that grow along the stalk of asparagus then slice each stalk into 1 inch pieces, blanch, drain, and add to the beans.  Dice the pepper and Cilantro, add to your bowl.  Add the sea salt and Cumin then drizzle the lime juice and Grape seed oil over everything.  Toss gently and serve chilled as a side salad with dinner.  Make it a main course at lunch by adding 6 ounces of grilled, free-range chicken breast to each serving.  Feel free to play with this recipe by changing up the beans and/or fresh herbs and adding more veggies.  Enjoy!